I've just added this product (well I'm not selling it directly since there is much involved with the hazmat shipping, so I'm an affiliate to make it easier to find the product.) I'm not advocating ingesting it for any health reasons, I use it for cleaning and sanitizing since I want to avoid harsh chemicals or anything that might leave residues that would be bad for the fish or ME. It is strong stuff, you will always be diluting it for use. It is better than the stuff in the medicine cabinet which has stabilizers in it that render it NOT food grade. It is also very strong while the stuff in the medicine cabinet is only 3% so you are paying for mostly water there. When handling the high % stuff, wear safety glasses or goggles and when using even 3% for cleaning, wear gloves. A quick dip of your hands in 3% H2O2 might not seem like a big deal but if you spend hours scrubbing stuff with it, by the time your fingernails start hurting, it is too late they will hurt for days and no about of washing will change it (no permanent damage but it was hard to type for a few days.) This is not for use IN your aquaponics system but for cleaning and sanitizing stuff before/between use in the system or for cleaning and sanitizing harvest equipment and for use in wash water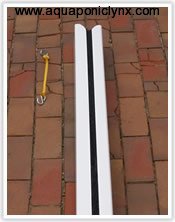 Zipgrow™ Tower
Aquaponics Indexing Valves or Sequencing valves provide a means to flood grow beds in sequence thus reducing the size of fish tank or sump tank needed to support a given amount of grow beds. Indexing valves or Sequencing valves are mechanical and only require the flow to them to stop and start to cause them to index forward. Aquaponics Indexing Valves are a great way to expand the amount of grow bed without needing to buy a bigger fish tank.
These Automatic Pet Feeders and Fish Feeders work well with pellet feed and can reliably feed your pets or fish while you are away. The Fish feeder timer can feed up to 8 times a day and the control is down to the second. These are large fish feeders which can hold enough pellet feed to keep rather large fish stocks fed for days or even weeks.
These are small energy efficient pumps suitable for small to medium aquaponics systems. Pump choice is important since it will affect the energy bill for an aquaponics system and choosing a cheap pump may cost more in the long run.
Aquaponic SystemsComplete Aquaponics System kits or plans and the hard to find parts to build a system from locally purchased tanks and pipe. Aquaponics System kits can be custom designed for your needs. Please contact me for more information.
New products are in development all the time. Automatically watered seed starting kits are imminent. I have capillary matting available as well. I have found that capillary matting is a great way to keep peat pellets consistently moist without water logging. Capillary matting can also be cut into thin strips and used as wicks for a variety of purposes including in net pots to keep small seedlings moist until their roots reach the water.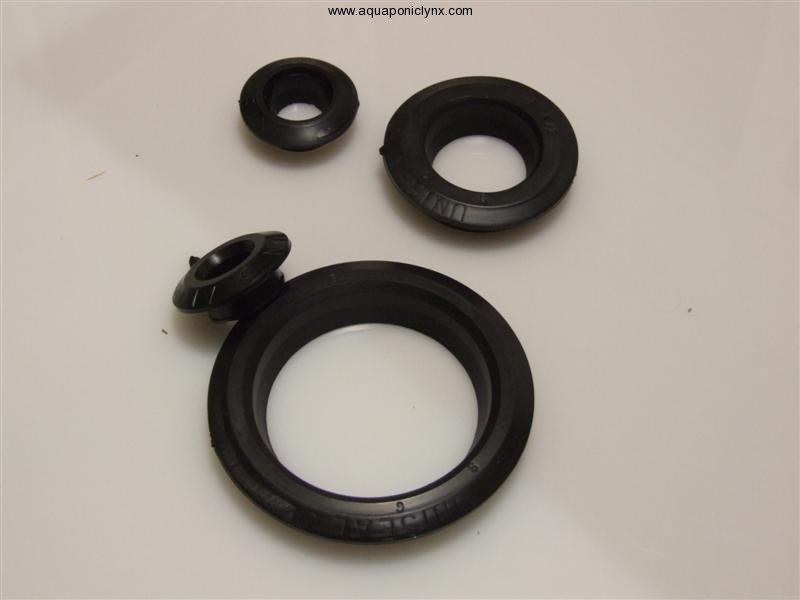 Uniseals are available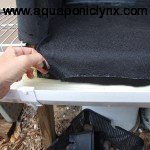 Capillary Matting
Other Products
Hydroponics Supplies Catalog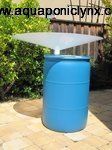 Rain Saucer on Blue Barrel Rain Saucers