I am still in the process of working out what products are most appropriate but in the mean time (until I can work out more inexpensive methods) I can offer the following in Florida.
Complete turn key system with all parts that you would put together yourself or in Florida, I can build these
Anyone interested in a basic aquaponics system with 300 gallons of fish tank and 300 gallons of gravel filled grow bed for $3000 (Could grow out up to 30 plate size fish the first season more once mature.)

A more complex Aquaponics system that could support double the fish load and produce double the veggies for $6000.

I have also priced out building some small systems but outdoors here in Florida I can't really recommend them as complete stand alone systems since the temperatures will swing a bit too extreme for my comfort.
Anyway, The "Mini Kitten 50″ would be a 100 gallon fish tank with 4 50 gallon flood and drain grow beds and that one would be $1500 (It would come with beds, plumbing, water pump, indexing valve and timer as well as gravel guards) You would need to provide your own media and I can recommend an air pump or aeration water pump for such a system. The Mini kitten 50 would provide more plant space and take up a larger footprint.
And for those with really restricted space I figured out a mini kitten 100. This one would have the 100 gallon fish tank and two 100 gallon grow beds where the top half would flood and drain so this would still have lots of filtration but only half the plant space of the mini 50. $1300.
Both the Kitten systems would require about 1 cubic yard of media or about 1.25 ton if using the 1/2" river rock from Pebble Junction in Sanford Florida where they sell by weight instead of volume.

I still need to set some of this up to take pictures so people can see what they would be getting.
I am working on partial kit plans that would allow customers to save on the bulky parts by providing a list of items they can get locally and I would ship the harder to acquire items in a package appropriate for the system they are building. Lets call this a Stocktank-aponics kit. $500.
Contact me and I can put together a kit appropriate for your situation. I hesitate to simply say here is the kit and list of needed parts because almost every situation will be different and even if I put together a few standard kits, almost everyone will need some personal customization and help to get what they need. For the above price I can put together kits appropriate for anything from a 100 gallon fish tank with 200 gallons of grow beds up to a 300 gallon fish tank with 600 gallons of grow beds.
I have tried many different things and have learned many pros and cons of each material. Since I am in Florida, definite termite territory, I can no longer recommend using wood in conjunction with pond liner, even if it is not touching the ground, if it is outdoors, I wouldn't trust it.
I can build big fish tanks for those who wish larger constant height in fish tank systems or just want deep water for their fish so they grow big and strong.
And of course I can offer expertise installing Aquaponics Indexing valves and have the longest experience of anyone with the gravity modified indexing valves as my Big System was the first test subject to see if gravity flow from an aquaponics system could operate an indexing valve. I have developed a method of automating a low pressure high flow valve that can operate an indexing valve and can offer this for more complex Aquaponics System Designs.
For those interested in complete DIY here is a good starting point.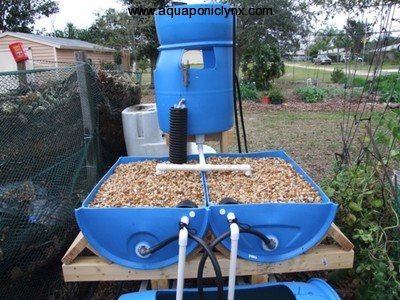 The Barrel-Ponics Manual by Travis W. Hughey is available free Barrel-ponics Manual
If you want details on build IBC systems, please go download the IBC of Aquaponics from Backyard aquaponics
Contact me about options for custom Aquaponics system design.
[coldform]