These are ABS plastic clamps that are great for holding fabric, liner, tarps, plastic, etc onto PVC or Metal pipe.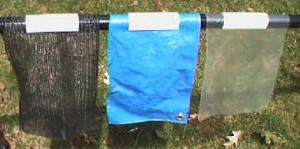 I use them to secure the Durascrim Liner to my Frames for my tower troughs or water plant troughs. They will work to secure liner to metal frames for Raft beds.
The 4′ long by 1″ clamps (meant for clamping to 1″ pvc or 1 3/8″ metal conduit) are $7.01 each
They can easily be cut using PVC cutters.