Grown right here in Florida at my home, lufa sponges. Yes grown, Lufa is a vine similar to a cucumber but much bigger. The fruit become quite large and if allowed to mature and dry on the vine, they can be pealed to become the nice plant fiber sponges so great for use in the bath or to wash dishes and scrub pots without worry of scratching the non stick surface.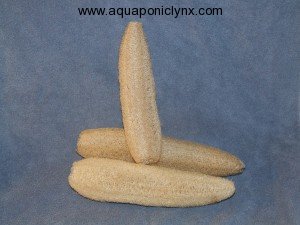 The nice whole Bath Lufas
$5 each and $6 for shipping
Contact me if you want to order multiples and save on shipping.
Most of the sponges I have harvested so far are between 10 and 15 inches.
Smaller cut pieces For cleaning and dish sponges are 2 for $4 plus $5 shipping.
These are naturally grown. I don't even bleach them just simply pealed, washed in well water to remove the plant juices and seeds (not all the seeds come out so some sponges may come with a few free seeds) and dried in the sun. No chemicals, not even chlorine in the well water, used in processing and no chemicals or synthetic fertilizers used in growing the plants.
The sponges are fine grained and fairly soft when wet.
Again, as I said, if you want to order more, contact me as you can save money on shipping if I put together your order and invoice you for what the final shipping cost will be. Paypal's shipping calculator is too limited to allow much flexibility on the buttons and the shipping charges for such an array of different odd items.