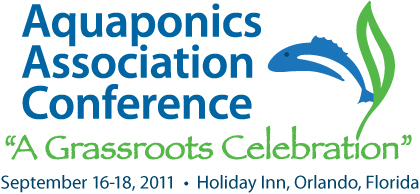 WOW. It was a great conference, a resounding success and a big hand to the Ladies who pulled it off.
Now I did not have my camera with me around the conference so anyone who wishes to share pictures, I'm interested. Contact me here through the web site or e-mail me. Perhaps I could even set some of you up with accounts here on my site so you could upload photos directly here. (My site does water mark with my URL) Anyway, I'm interested in pictures since I know many took pictures and even video at my place during the farm tours but I want to see other things too. I didn't get to visit the other farms on Friday and there are a couple places I've never gotten to visit and the other places I'm sure have had changes since last I was there.
Anyway, the Aquaponics Association Conference was so exciting to meet so many people into Aquaponics and hearing about new developments and things going on around the world as well as right here at home I met people from just down the road who I didn't even know they were here doing aquaponics. We Now have our Aquaponics Association and the new officers will be busy getting all the details pined down so that we can figure out what the association can do. Even if all the Aquaponics Association does is organize conferences and post/share aquaponics information and educational materials on the subject, I think that is well worth the membership dues. However, I expect the association will work to do much more, especially with the offer from the Bahamas to partner on a research station and so many people interested in making it work and promoting aquaponics around the globe and right in our own back yards.
So, please share pictures and I'll see if I can set up an easy way for people to post them here if you like. Now I better figure out how to post my presentation materials here for anyone interested.
Here you will find my plumbing class presentation if you would like to see it.